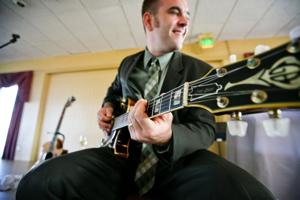 If you're into the jazz, blues and rock scenes in Roanoke, you've probably come across Brian Mesko by now. Mesko, who teaches at the Music Lab at Jefferson Center, plays for the Rootdowns, The Nicholson Brothers, Melissa & the Growlers (featuring his wife, singer Melissa Mesko) and his own Brian Mesko Trio and/or Quartet.
The quartet played some killer sets at Henry's Public House on Friday night, and I shot some video that I will post later this week. One of the songs, a Mesko original called "Dank Funk," was on the set list, and with sax man Willis Greenstreet and bassist Dane Alderson turning in some hot solos, Mesko showed that he is as good at choosing sidemen as he is at playing guitar (or bass, or drums — we're jealous  of him over here).
Mesko has already recorded "Dank Funk" with Alderson and drummer Forrest Young (also a very talented cat), at Summit Sound, in Eagle Rock. Jake Dempsey was at the board.
Comments
comments